Up for Auction – Dexter the Scout House Weathervane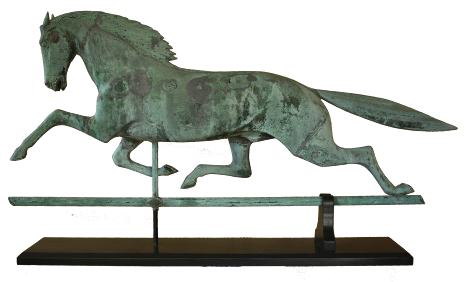 Before there was a Concord Scout House, there was a barn and on the top of that barn stood this Cushing & White running horse weathervane with the model name Dexter. Once the barn was converted to the Scout House the weathervane remained atop the new building. There it stayed until just a few years ago. Dexter is in fairly good shape with just a few bullet hole repairs. Yep, that's right, 100 years ago shots were fired in Concord - just to see if someone could hit the weather vane on top of the old barn.
The old Dexter isn't up to another 100 years of rough New England weather, so today the Scout House needs to replace Dexter with a reproduction. What will happen to the old Dexter?
That's up to you. We've listed Dexter on ebay, the auction will end on May 24th - make a bid NOW to get a chance to own this piece of Scout House and Concord history!