About The Hall
The Concord Scout House is a well-maintained historic building in the center of Concord, Massachusetts, within walking distance to many of Concord's famous local attractions. The white clapboard building is set back from the street, down a long driveway flanked by tall pines, making for a lovely entrance into the Great Hall.
The large wooden dance floor is 40 feet by 70 feet, with a stage at one end and a working stone fireplace on one side. The ceiling reaches a height of approximately 30 feet at its peak. Six foot high wainscotting with coat pegs and seven enormous windows line the walls. Above the natural wood wainscotting, the walls and ceiling are white, with unfinished beams as visible accents.
The stage measures 20 feet wide by 15 feet deep and has curtains and side rooms. One can access the stage either from these side rooms, which lead to the rear upstage area, or from movable apron stairs. The piano, which is owned by one of our dance user groups, can be rented for events.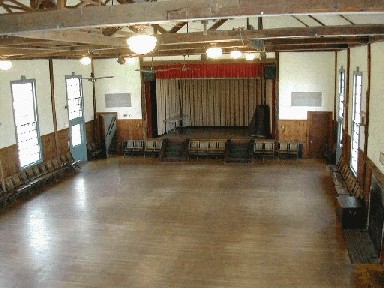 Off the center foyer, there is a moderately-sized kitchen on one side and restrooms on the other. The beautiful double front doors open out to a nice view of the tree-lined drive.

The hall has a maximum capacity of 300 and seats 200 comfortably. We have 18 collapsible banquet tables and more than enough wooden double chairs, or you may decide to rent your own tables and chairs. There is suitable lighting for both day and evening events.
The large windows provide plentiful natural lighting for daytime events, and reflect light and evening tones beautifully.
You can create your space in our place
Whether you would like to maintain the quiet simplicity of this historic New England hall or add color and atmosphere to your event, the Scout House can adapt to your mood.

Photography below by MaureenCottonWeddings.com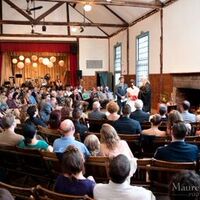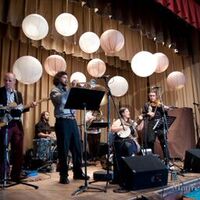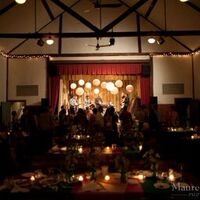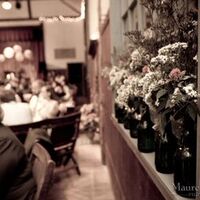 Event Rental Rates
• Weekdays & weeknights: $150.00 an hour (2.5 hour minimum)
• Friday afternoon events that go past 6:00 PM: $300 an hour (5 hour minimum)
• Friday nights, Saturday, Sunday & Holidays: $300 an hour (5 hour minimum)
Other supplemental fees may apply, including: rental of the piano, use of the fireplace or non-catered food, etc. The office will be happy to help you with any questions you have.
Availability and Reservations
Please contact the office to arrange a walk-through and to schedule your event.
(978) 369-3455 or info(at)ConcordScoutHouse(dot)org
Nearby Attractions and Amenities
The Scout House is in the center of Concord, within walking distance to restaurants, shops, banks, the library, and The Colonial Inn at the head of Monument Square. The North Bridge is a 15-minute walk from the Scout House, as is Louisa May Alcott's Orchard House. The Concord Commuter Rail station is a 10-minute walk away.
Directions