Make your plans now!
We're having a Scout House fundraiser benefit Contra Dance on Monday, November 14, 2016 at 7:30pm in our hall at 74 Walden Street, Concord, MA 01742.
Music will be supplied by ten performers of renown from the group Childsplay with calling by Lisa Greenleaf. Dereck Kalish will be providing professional sound. Special lighting (but no bright flashing ones) to help set the mood.
Come and help support our treasured Scout House venue - we look forward to seeing you on the dance floor! Limited open seating is available for those who do not wish to dance. This is a fragrance-free event, please avoid the use of scented body and laundry products in support of our allergy sensitive dancers. Please bring clean, soft-soled shoes for dancing to protect our newly refinished floor.
Childsplay is playing for tonight's contra dance to honor the memory of their former colleague Kerry Elkin.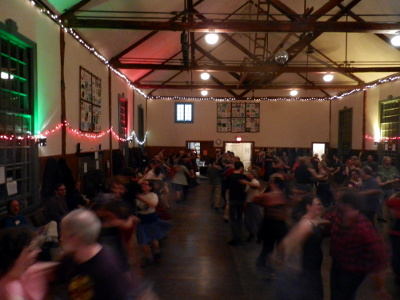 Admission is Pick-a-Price: Adult $15 or $20, under 22: $10 or $15. We'll gladly accept additional donations, too! Admission or donations above cash value are a deductible contribution as allowed by law (the Concord Scout House, Inc. is a 501(c)(3) non-profit organization).
Advance credit/debit sales available through Friday, November 11th Sunday, November 13th 2016 at NOON (now extended!) - see below (visible only when active). Advance admission purchasers will have expedited entry through a dedicated line. At event payment is by cash/check only.
Want to help? Please share this evening's Facebook event with your friends! You can print some copies of our flyer to post at your area dance or our tear-off poster to put up on local billboards. Limited work exchange is available towards free admission - contact Don Veino for more information.
We are grateful to Childsplay, Lisa Greenleaf and Dereck Kalish for donating their services this evening to benefit the Scout House!
The full-lineup Childsplay will also be performing a concert at the Somerville Theatre in Davis Square on November 20th.