A Unique Venue In The Heart Of Historic Concord, MA
The Concord Scout House is located at 74 Walden Street in picturesque Concord. It is a beautiful, historic building available to the public for rental. With classic post-and-beam architecture, natural wood floor and stage, large windows, and rustic simplicity, it is an ideal location for a variety of social functions. We have hosted wedding ceremonies and receptions, Bar and Bat Mitzvah celebrations, dances, plays, movies, parties, family gatherings, concerts, and Scout activities. The large airy Great Hall can also accommodate trade shows, company meetings, dance events and celebrations.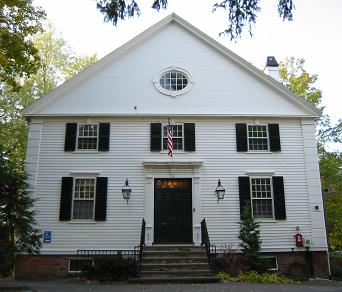 Contact Us: (978) 369-3455 or info(at)ConcordScoutHouse(dot)org
Office Hours: Lois Stevens, the Scout House secretary, is available by appointment. Always call to confirm before stopping by!
Weddings--and other events--are beautiful at the Concord Scout House!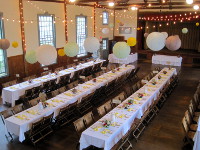 The bright and airy Great Hall is a fabulous venue for all kinds of events, and boasts one of the best and biggest wooden dance floors in the region.
The Hall is suitable for weddings, parties, celebrations, graduations and meetings. This photo shows our tables and chairs festively decorated for a wedding.
Check out the Rentals page for more pictures and information.
Great Things Are Always Happening Here
Community Support
As an independent 501(c)(3) non-profit organization, Concord Scout House, Inc. relies on the generous contributions of its community of users to help maintain the building. Rental fees do not cover all the costs of preserving this beautiful historic building, so please consider donating today. All donations are deductible as per the applicable tax code.
We also appreciate our generous communities' donations of goods and services towards our special fundraising efforts!